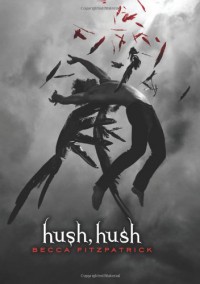 I haven't read a whole lot of Angel novels my entire life. The first I actually read was Fallen by Thomas Sniegoski, followed by Immortal City by Scott Speer, then Fallen by Lauren Kate, and finally this.
Hush, Hush was really interesting. From the cover itself, it gives off a unique vibe that entices readers to delve into the book - dark and mysterious. I've seen this book sitting down the shelves of my local bookstores. Picking the book up and reading the synopsis at the back cover, i took me a lot of courage not to buy the book, not because I did not like it, but I because I'm broke, my allowance was short. (And yeah, I was too busy buying off Rick Riordan novels. Hahaha!)
Okay, now let's move to the actual content of the book. I found the protagonist Nora, easy to relate to. She's just a typical teenager, studying in high school. She's got a best friend in the person of Vee Sky. She's living a normal life, except her dad was shot to death and their place was located in a foggy and eerie place.
There came the new guy, Patch. He was a transferee to Coldwater High School, and became the new lab partner of Nora in biology. Nora immediately noticed the vibe this guy was giving off. She found him attractive and dangerous at the same time.
Unknown to her, Patch was drawn to Nora in many ways, which made him question his motives. Patch had a secret, a dark one that might throw Nora away.
I found Patch's character really solid. Even I managed to catch some of those vibes he's throwing off, which made me question and doubt his true identity and motives about Nora. And with that, I really commend the author, Becca Fitzpatrick, for creating a three-dimensional character.
The plot of the story was unpredictable for me, well except for the fact that I knew that the guy from the Prologue had something to do with all this. Yep, that was the only thing I guessed right. (I told you I was having doubts with Patch!). The other characters were unpredictable too- especially the cops, for that matter.
Aside from all that not-so-dark-and-tragic-stuff, it has that "chick-lit" side too. I love those lines Patch was throwing out to Nora, which really makes me grin because of its cheesiness. For instance this line here,
"You possess other people's ... bodies."He accepted the statement with a nod."Do you want to possess my body?""I want to do a lot of things to your body, but that's not one of them."
See, we all know there's something *coughs*sexual innuendo*coughs* there!
This was the book that forced me to read again, after taking some hiatus in reading novels because I was too busy in school and I want to congratulate myself for picking this book luckily.
Grab this book, you might actually like it!